Alan Cross is a guy known for hosting the always-interesting Ongoing History of New Music on Canadian radio stations. He also used to tape a segment you could hear on airplane radios in the late 90's if you didn't want to watch Frasier reruns or a movie you never wanted to see. I don't mean to write the ongoing history of radio hosts, I just wanted an interesting segue into this new album I like.

For me, Alan is the guy that introduced me to Gomez, one of my favourite bands that make albums to look forward to and enjoy. It was on a plane to Paris, France that he played "78 Stone Wobble" by the band and since then I've been hooked. The song was different, weird, but captivating in a way that maybe you had to be above the Atlantic to appreciate. (Incidentally, Cross also played the Dandy Warhols covering AC/DC's "Hell's Bells," saying, "Here's what Brian Johnson would sound like if he was really, really sleepy," a song that also made me a fan of the Dandy's for life.)

Anyway, Gomez put out a new album this week and it's fantastically good - How We Operate. It's full of their signature unclassifiable sound, if that means anything. And I suspect that if I heard new song "Charley Patton Songs" (scroll down here for link) at 30,000 feet, I'd be as much of a fan if I hadn't heard anything else.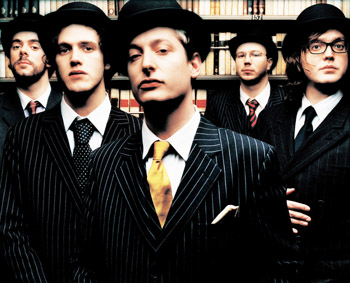 Another interesting Gomez fact that's fun to relate. I always liked the history of the band's name: apparently they were nameless, and were playing a gig they wanted their friend Robert Gomez to see. Robert didn't have directions, so they put a sign outside the bar with the word "Gomez" written on it and an arrow pointing inside.